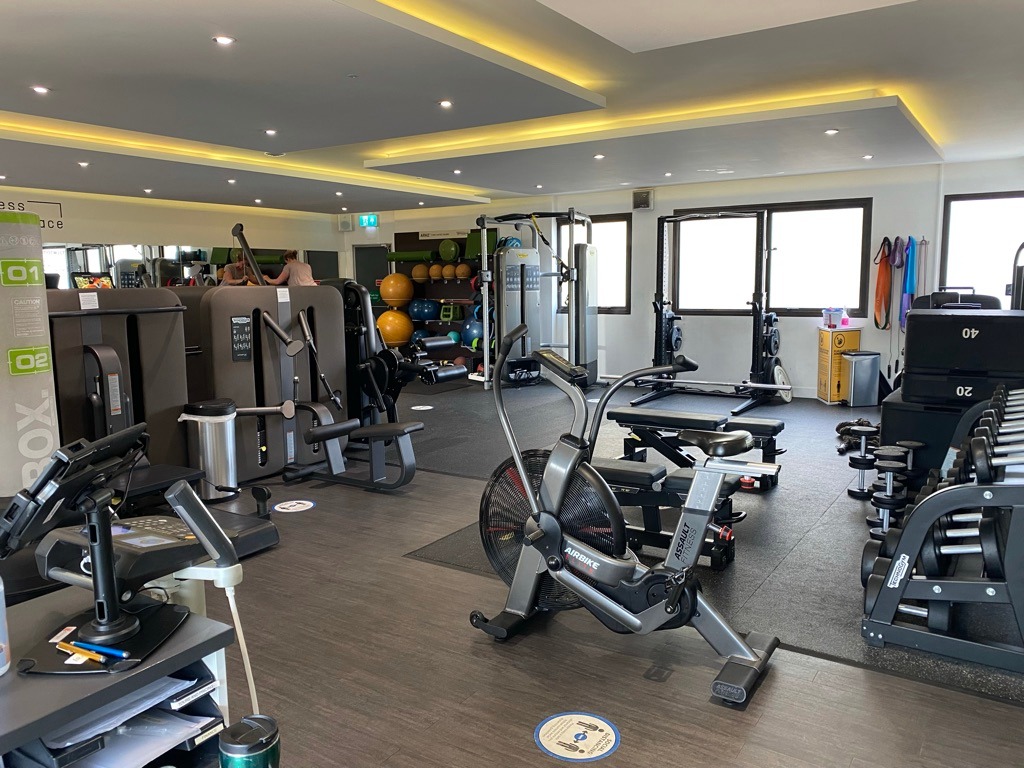 WHY FITNESS SPACE?
We're not just a typical gym. Whether you're a gym newbie or training is your thing – we'll take your fitness further with our inclusive monthly personal training session.
With your dedicated coach, a bespoke programme and a digitally connected experience you can stay on track to smash your goals.
OUR TEAM
Like any good team each coach supports the other whilst having their own unique skills and qualities. Whether your goal is fat loss, muscle gain, sport specific, pre-or post natal, injury recovery or just to "get fitter" – we've got you covered. Our friendly and approachable staff will guide you on your fitness journey.
Former professional chef and highly experienced personal trainer. He is dedicated to getting the best out of his clients, whatever their fitness goals.
A wheelchair rugby player and basketball coach as well as experienced personal trainer. He uses these skills to prove to his clients that they can do so much more than they thought they were capable of.
Joel Connor-Saunders
Trainer
Kel takes pride in helping his clients reach their goals and is keen to learn and constantly researches new and exciting ways to improve workout programmes for his clients.
Harriet loves HIIT training and cardio, sculpting and toning workouts and specialises in training with resistance bands.
Former professional ballet dancer. He brings a unique style of core and strength training with his barre classes and has recently started to compete in triathlon.
Experienced in working with clients looking for weight loss, Yvonne is also qualified in exercise referral, working with clients who have long term medical conditions. She believes you are never too old to start lifting weights.
BECOME A MEMBER
Contact us to take your first step into your fitness journey.
6 Months & 6PT
6 Months full gym membership
6 Personal training sessions
Classes
Dedicated coach
Programme via app
Monthly body composition tracking
Fitness Space app
Just £299.00
June Offer - 2 Months Free
12 Months for the price of 10
Dedicated coach
Monthly personal training session
Anytime gym access
Classes
Fitness Space app
Programme via app
Monthly body composition tracking
Just £37.50/month    Saves £7.49 per month
Forge
Dedicated Fitness Coach
Weekly personal training session
Anytime gym access
Classes
Fitness Space app
Programme via app
Monthly body composition tracking
Just £139.99/mo
WHAT OUR MEMBERS SAY
Don't just take it from us, hear why our members love Fitness Space.
Fitness Space Norwich is much more than just a gym – it's a community. I've been a member since 2017 and it's been transformative to both my physical and mental wellbeing.
Alice Arnott
Great PTs, specially Danny and Joel, two Greta guys. All staff is super friendly and the gym is always tidy and clean. Good value with the monthly PT sessions included.
Joao Correia
Great gym with extremely friendly and well trained staff! Nice atmosphere inside, new equipment, lots of classes. Really been enjoying P.T with Tyler!
Josh King
Brilliant gym. Friendly, very clean and safe. Would recommend this gym to anyone who wants a gym to have the whole team looking out for them.
Sharon Rolfe
Friendly, helpful staff and I especially love Yvonne's circuits and the music is great too. Thank you for inspiring me.
Andy Nunney
Fantastic modern gym! great staff and fun classes. My favourite class is pilates! I go in with an aching back and leave feeling like a new woman!
Julia La Ronde
Fantastic gym, everyone there makes you feel comfortable , they actually listen to you needs and tailor a fitness plan to suit you. Actually enjoy going to the Gym
Paula Howden
Everything you need from a gym in a friendly atmosphere with PTs always on hand to help and chat with and lots of different classes.
Adam Cross
I recently joined the club on the Founder membership and LOVE the place. The Equipment is great and I love being able to follow a programme and have regular reviews with my designated trainer.
Callum Cullen
Wow, just wow! I've joined probably the majority of the gyms all around Norwich and I can honestly say this one is a 'Personal' gym.
Nathan Wilson
Great gym top equipment friendly staff always happy to see u and help with loads of encouragement to reach your goals
Maria Watts
FREQUENTLY ASKED QUESTIONS
Memberships
Our most popular memberships are displayed on the
membership
page but we recommend booking a tour and speaking to us if you are unsure. It is important to find the best option for you suit your goals.
Personal Training
Each membership includes at least one monthly PT session. This helps the member to stay motivated, learn new techniques, minimise injury risk and make progress. Personal training can take many forms and isn't just about lifting weights!

Classes
All classes excluding "Hot" classes are included with each membership option. "Hot" classes are run in a 38 degree environment. Whilst increasing the challenge this also helps the muscles to relax and deepens the stretch.
See our timetable for classes which are currently available.

Non-member classes
Hot classes are available to non-members. Call to pre-pay and book.
App
Never Train Alone with the Fitness Space app. Available for Apple and Android devices, connect to the studio equipment, follow your customised programme and connect with your coach 24/7 through the messenger service. Keep track of your body composition and integrate some favourite fitness apps to capture all your moves and track your progress.
Showers
Fitness Space Norwich has high quality changing facilities with showers.
Covid
The gym is professionally cleaned each evening and all members are strongly encouraged to clean equipment after use with the products provided. Staff carry out regular touch point cleans.